Very Welcome
Here I would like to introduce my trade object.
For health reasons I would like to offer the following sales object in Reichenbach in middle Germany.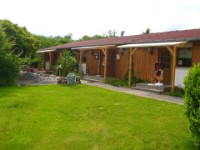 This Exposé will lead you through the tennis court surrounded by green as well as the main house with one-time restaurant complete with kitchen, store room, men/women toilet, Billiard room and office. The adjoining building comes with changing rooms (men and women separately) all with shower and toilets followed by a spacious sauna with chill-out room and terrace.
The object is located in a quiet landscape surrounded by field and wood without any close living neighbours. Nevertheless is the object perfect logistic located. So it takes no more than 2min. to the motorway and the important german motorway intersection A4/A9.
Facts:
Object/Use:

Currently used as a tennis court with restaurant, sauna –area with changing rooms, office and social-area
District: 07629 Reichenbach, Thuringia, Middle-Germany
Building complex:

Low building complex with approx. 325 m ² usable area.
It was built in 1992 as a wooden frame construction.
The whole building is in a good constructional state and was regularly maintained.
Heating: Under-floor heating.
Sanitary rooms: men and women apart with showering, washbasin, toilets, urinal (man).
Furnished changing rooms.
Spacious and fully functioning sauna area with chill-out room and adjoining terrace (outdoor)
For example the building can be used as an office or as a residential house with office
Free surface and tennis courts can be used, for example, as store, stockroom or manufacturing halls
Position:

The Object is located in Thuringia in the middle of Germany
Not far from the motorway intersection "Hermsdorfer Kreuz" A4/A9 A9 (Frankfurt-Dresden / Berlin-München)
1,5km from the motorway exit 25 "Hermsdorf Süd/ St. Gangloff"
Direct on the road L1076 (Stadtroda/Hermsdorf - St. Gangloff/Gera)
The centre of Reichenbach is 1,2km far
Connections:

The property/ hereditament is complete connected
Water / Wastewater
Electricity
Phone / Internet
Heating runs with liquid gas
The object is empty by sales within 4 weeks
Terms of business:
All informations in this exposé are without guarantee. No guarantee for it that the object at the moment of the access of this offer / exposé is still freely available.
The contents are confidential – hand on into three parts only after my approval. Inspections can be arranged to any time after contacting me.
I would be glad to hear from you.
L. Eberhardt
0162-2827401